Buying Land in Ontario: What You Need To Know
Posted by Lisa Malcolm on Wednesday, July 19, 2023 at 10:58:24 AM
By Lisa Malcolm / July 19, 2023
Comment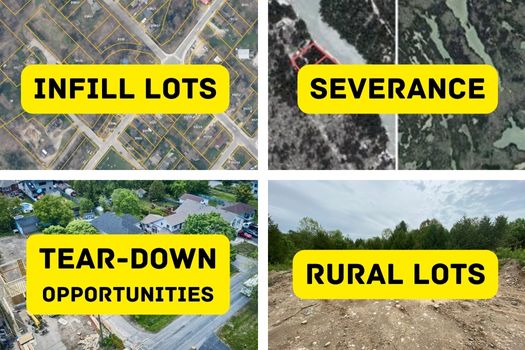 So you're thinking about buying land? How exciting! Buying land might seem simple and straightforward however it's a niche area in real estate where it is essential you hire knowledgeable and experienced professionals like our team to ensure this acquisition is achieved while protecting your interests from start to finish. With land, there's definitely more than what meets the eye. In this article, we'll outline:
the types of land in Ontario,
financing the purchase of land
factors when considering land options for purchase
Different Types of Land in Ontario
In Ontario, there are three main types of land that you can purchase: raw land, vacant land (zoned land), and Crown land.
Raw Land Raw land refers to undeveloped land that has not been utilized for any specific purpose before. Typically, raw land lacks essential utilities such as power and water, and there are no existing structures on the property. Access to the land may also be limited, as it does not usually have road connections. Raw land is privately owned and available for purchase.
Vacant Land Vacant land, also known as zoned land, is land that has some level of development or servicing. This type of land may have access to utilities like power, water, septic systems, and road services. Some improvements or developments might already exist on the property. Like raw land, vacant land is privately owned and available for purchase.
It's important to distinguish between truly vacant land, which lacks permanent structures, and land like farmland, which is still considered vacant despite being used for agricultural purposes.
Crown Land Crown land comprises the majority of land in Ontario and is owned by the provincial government, making it public land. The extensive Crown land areas are mostly found in northern Ontario, while southern Ontario primarily consists of privately-owned land. The use of Crown land is subject to certain restrictions and conditions. Interested parties can either purchase or rent Crown land for specific purposes, and all applications undergo review based on Ontario's Crown Land Disposition Policy, which ensures sustainable development.
Notably, Crown land is typically sold at market value, although there may be exceptions for public benefit cases where it could be sold below market value.
Financing Land Purchases in Ontario
Land Loans Purchasing vacant or raw land can be riskier for lenders compared to residential properties. Consequently, land loans often require a higher down payment, typically ranging from 30% to 50%. Interest rates for raw land loans may be higher, and obtaining financing might involve private lenders or mortgage brokers, especially for raw land purchases.
HELOCs and Personal Loans For smaller land purchases, buyers can opt to use cash, personal loans, home equity lines of credit (HELOCs), or a combination of these. Those who already own a home can utilize a HELOC to borrow money for the land purchase. Alternatively, one may consider a mortgage refinance on their current property or obtain a second mortgage on it.
Seller Financing Seller financing, also known as owner financing, is another option. In this arrangement, the land seller acts as the lender, and the buyer makes regular loan payments directly to them.
Considerations When Purchasing Land in Ontario
Zoning Understanding the zoning regulations of the land is crucial. Zoning dictates the land's permissible uses and the types of buildings that can be constructed. Rezoning or requesting a zoning bylaw amendment can be a lengthy and uncertain process, so it's essential to be aware of the land's existing zoning before purchase.
Land Survey Obtaining a land survey is necessary to determine the property's boundaries, easements, restrictive covenants, and the presence of any existing structures or features.
Access For land without existing road access, acquiring a private road extension or driveway may require crossing other privately-owned properties. Additionally, getting gas, phone lines, and power lines to the property can be a significant expense.
Soil Test In areas without municipal services, a soil test is essential to assess the property's suitability for a well and septic system.
Development Developing the land for construction may involve costs such as clearing trees and brush. Ensure there are no restrictive covenants on the land title that prohibit certain uses or construction.
Taxes Buyers are required to pay Ontario land transfer tax upon purchasing the land. Property taxes will also apply, even if no structures have been built yet.
Other Governing Bodies There are 36 conservation authorities located across Ontario that regulate the land use in their jurisdiction. It is essential to cross-reference the land of interest for purchase with the available maps to understand if, and to what extent, the land will be under the governance of a conservation authority. This verification is necessary to ensure that your intended use of the land is permissible. If a conservation authority does not have governance over the land of interest, you will only need to consult with the local municipality if you intend to develop the land. However, if the conservation authority does have governance over the particular parcel of land you'd like to purchase, they will be involved in the approval process for the development of the land.
Next Steps In order for you to purchase land safely, efficiently, and most effectively, working with the Lisa Malcolm Group will guarantee that all efforts are in place to find the right land parcel for you, negotiate to the highest level to protect your interests, and align you with our professional network to fully maximize the intended use of the land. From commercial development to residential development, we have you covered.
Take a Quick Glance below at Land Listings on the Market Today. If you'd like access to land opportunities for sale that are not on the open market, call Lisa today to book an appointment and be enrolled into our "No Obligation to Buy / Cancel Anytime*" Buyer Advantage Program.